Library Is A Growing Organism :
A Step Towards Development
The Library of PSN College of Engineering and Technology came into being in the year 2001. The Library is built up and is being equipped steadily and systematically.
Library consists of central and departmental libraries which collectively support the educational needs of all the programmes. Library has automated all its services. It has a vast collection of books reference books, bound volumes – journals, conference proceedings, e-books, CD's /DVD's, Students thesis, E- journals etc.
LOCATION OF THE PSNCET LIBRARY:
The Library is located in an easily accessible area near the Administrative Block, Research Block, Placement Cell and Class Rooms. Total area of the library is 28316.6 sq.ft (Ground & First)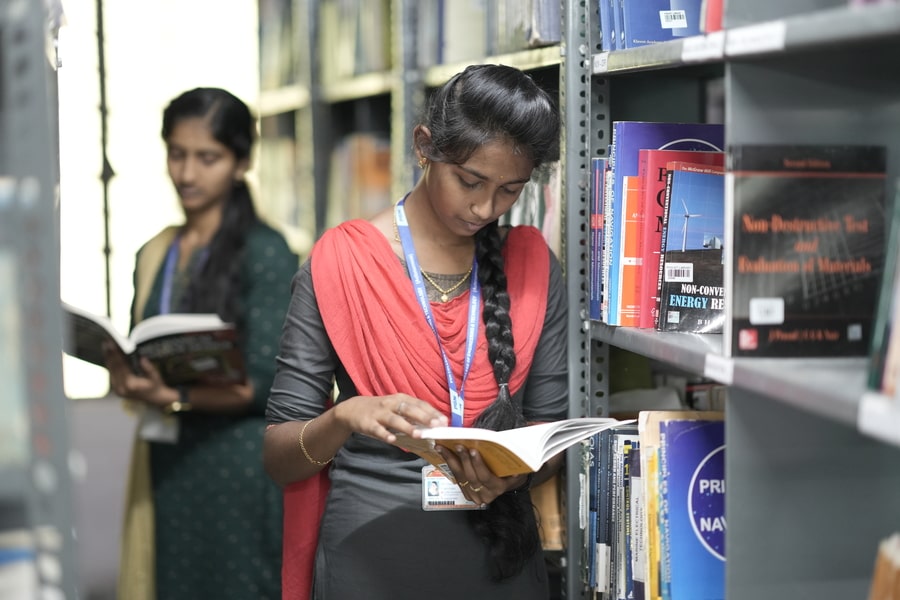 The Library is having a total collection of 60509 volumes (18060 titles) of text books & Reference books.
Our Library has about a collection of 3640 CD's & 1242 Nos. of project reports.
16 Nos. of National Journals & 17 No. of International Journals is available

E-Journals are subscribed from the British council – online , DELNET – online & National Digital Library of India, Kharagpur.
116 Nos of lectures notes are available.
Timings
Summer
Winter
Library Timing for Day Scholar
9:00 AM to 6:00 PM
9:00 AM to 5:30 PM
Library Timing for Hostellers
9:00 AM to 9:00 PM
9:00 AM to 9:00 PM
Hostellers ensure their presence in the library for extended hours
On or Before 6:00 PM
On or Before 5:30 PM
Sunday (s) and Holiday (s)
10:00 AM to 5:00 PM
10:00 AM to 5:00 PM
National Holiday (s)
Closed